Welcome to Bear Valley Rescue
---
B

ear Valley Rescue is verified by
Global Federation of Animal Sanctuaries.

GFAS is the only globally recognized organization providing standards for identifying legitimate animal sanctuaries, with strict standards that have to be met in order to be accredited by their organization.

---
---
Decorate the Tree or
Sponsor a Horse for the Winter!

Our Christmas fundraiser is under way!

This is our biggest fundraiser of the year, bringing in funds to help care for the horses through the winter.
Help us decorate the tree and find sponsors for the horses!
For a donation of $300 you can sponsor a horse for the winter for yourself or a loved one.
We'll send you a beautiful little canvas print of the horse along with a letter telling their story.
You can also make a donation of any amount to put a present under the tree for your favourite BVR horse!
Donations can be made by etransfer to bearvalleyab@aol.com, or through the Canada Helps, Charitable Impact, or Paypal links on the website ,
or by mail to Bear Valley Rescue, Comp 19, Site 6, RR 2, Sundre, AB T0M 1X0.
*Important! - include your contact info with your donation, or email or message us your details separately.*
Thank you for helping us help the horses!

Here is a lovely testimonial from one of our supporters:
One of my favourite parts of the holiday season is when a package arrives in my mailbox from Bear Valley Rescue! Inside is a gorgeous canvas print of my horse that I have sponsored for the winter, which I proudly display for everyone to see. Also included is the story (written straight from the heart) of what is known of my sponsored horse's journey before finding themselves safety, food, and love at Bear Valley Rescue. Each story is brilliantly written, sometimes reducing me to tears, but always making me feel happy that I am helping them to live a life where they will know kindness and love for the rest of their days. - Donna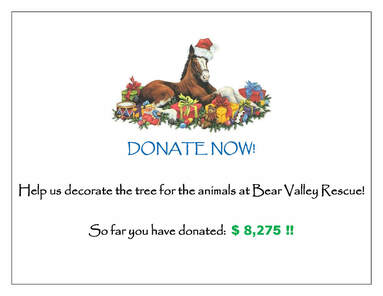 ---

We're celebrating our 20th year -
20 years of helping horses and the people who love them!
Thank you to everyone who have supported us
on this journey.
Our Open House on August 26/23 was a resounding success.
We raised $8,370 toward the care of the horses!

---

Recent Intakes:

Due to the huge increase in surrender requests we're experiencing, and the influx of horses we are helping, we are unfortunately having to put a freeze on intakes (as much as we can!). If you are considering adopting or fostering, now is the time! If you can donate to help the horses in our care it is also very much appreciated. If you are struggling and have to surrender your horse you can still reach out to us, as we may be able to help or network to provide assistance.

---
---
Every month we have expenses such as vet ($5,000), hay ($20,000 average in winter), farrier ($1,800 per month), feed for the seniors ($5,000),
plus maintenance costs such as fuel, equipment, repairs & maintenance, etc. so it really adds up!

​Hay for the horses is our single largest expense.

If you have good quality horse hay to donate, please contact us and we can arrange to have it picked up. We use hay throughout the year as we have a number of horses that cannot go out on pasture in the summer. Tax receipts can be issued for all hay donations.
Help us put a dent in our biggest expense!


​Help us care for the senior horses.

We have many older and special needs horses that need custom feeding & daily medication (in 2022, over 80 of our horses are aged 20 years or more, of which at least 10 are aged 30 or more!). You can donate feed for the horses through our feed supplier, Country Junction Feeds, arrange it through another supplier, or bring it to us directly. We appreciate all donations and can issue charitable tax receipts!


---
For info on adopting and to see the horses currently residing at the Rescue, look under

'The Animals'

tab.

Wondering what you can do to help the horses or get involved? Look under the '

How To Help

' tab for more information. One of the best ways to help is though a monthly sponsorship of one of the horses or other animals at the Rescue.
---
Bear Valley hoodies and t-shirts are available for sale on our shopping page!
​
---
---