Donate

Bear Valley Rescue Society is a federally registered Canadian charity and can issue tax receipts for monetary donations and gifts in kind.
Charity registration # 81116 4193 RR0001
​
WHAT 'RESCUE' REALLY INVOLVES
The most difficult aspect of horse rescue is not when we save a horse from a sad, desperate situation--it's when the emergency fades and we must find the funds each month to make sure our horses have proper care and enough food to eat. Depending on the level of care required, It costs between $100 to $250 per horse each month to properly care for our rescued horses, and because Bear Valley Rescue is funded solely by donations, adoption fees, sponsorships and grants, we are always in need of regular, monthly donations.

BEYOND THE EMERGENCY
We are always there at the crucial point of rescue, but we need dedicated horse advocates who will go beyond the emergency and help us care for our horses with monthly donations. Currently, we have over 150 horses in our care. Some of these horses are waiting to be adopted, but most are our permanent residents--elderly or special needs horses that no one wants. We're committed to saving horses in need and making sure that none are cast aside, abused or forgotten, but we need your help. Will you join us and help us give the horses in our care the future they deserve?
​

ATB Cares makes it easy for you to donate and to increase the impact of your donation by matching
​ 15% of your donation.

​You can donate to help feed our residents at Bear Valley Rescue - or you can give on behalf of someone else.
You can also sponsor the animal of your choice!
Click button below:

---

Feed the Seniors for a day - $50
Feed the Seniors for a week - $350
Feed the Seniors for a month - $1500

Feed a horse for a week - $25
Feed a horse for a month - $100
Feed a horse for a year - $1200
How your donation helps:
A gift of $5 buys one square bale of hay.
A gift of $10 pays for an annual vaccination for one horse.
A gift of $25 buys dewormer for 5 horses.
A gift of $30 pays for a farrier visit for one horse.
A gift of $50 pays for one vet visit.
A gift of $100 buys one round bale of hay.
A gift of $175 pays for one horse to have its teeth floated.
A gift of $250 pays for a horse to be gelded.

During the winter season, we go through at least 800 round bales and 2000
square bales of hay to feed ​the residents of Bear Valley Rescue.
Please consider making a one-time or monthly donation to help us look after the horses and other animals.

*Bear Valley Rescue does not compile or sell donor or member information.

All gifts matter!
You can donate now by etransfer to bearvalleyab@aol.com, or through CanadaHelps, PayPal, or ATB Cares:
Click above to ​download a printable
donation form


Donate with your PayPal account


Donate with ATB Cares​ and they will match 15% of your donation,​ up to $1,000!

---
---
Donate a Car


Donate A Car Canada
accepts vehicle donations for
Bear Valley Rescue
.
To donate a car, truck, RV, boat, motorcycle or other vehicle to BVR, simply fill out the
DONATE NOW tab at www.donatecar.ca
.
Donate A Car Canada can provide you with free towing in many areas across Canada.
Donate a Car Canada can pick up your car or truck, or you can drop off your vehicle to maximize your donation.
When you donate your car it will either be recycled or sold at auction depending on its condition, age and location. Donate A Car Canada will look after everything to make your donation easy for you to support Bear Valley Rescue.
DONATE NOW at
www.donatecar.ca
or by clicking on the banner below, and BVR will send you the tax receipt after your car donation is complete!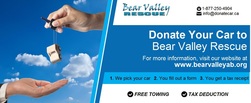 ---
Donate your unused gift cards to help the animals of Bear Valley!
Support Bear Valley Rescue without spending a dollar - and receive a tax receipt!

Take a look inside your wallet. Do you see a gift card or credit for returned merchandise that has been sitting there for months? If so, you're not alone: the average Canadian household has over $300 in unredeemed gift cards. In fact, each year over $1 billion in value trapped in gift cards goes unredeemed!

Imagine if the value trapped in these gift cards could be liberated and help rescue, rehabilitate, and rehome unwanted horses and other animals!

Thanks to an innovative partnership between Bear Valley Rescue and CardSwap, Canada's largest gift card marketplace, you can now donate your unused gift cards and receive a tax receipt for the full face value of your gift card donation.

Making a donation of gift cards is easy!

What type of gift card is eligible for this program?
We can accept gift cards and merchandise credits from all national Canadian retailers or service provider such at Best Buy, HBC, Starbucks, or Chapters. We also accept gift cards for many regional retailers or restaurants, typically as long as they have five or more locations.
For a complete list of over 350 participating stores you can click here…
Not sure of the remaining balance on your gift card? You can always call the number on the back of your gift card to confirm the balance. This amount will also be verified during our validation process.
At this time, the following gift cards are NOT eligible: Paper-based gift certificates or coupons; Gift cards with expiry dates or other usage restrictions; Gift cards in currency other than Canadian dollars.
Make a gift card donation to Bear Valley Rescue today!
Click below to download a form to complete your gift card donation. And remember, your donation is fully eligible for a tax receipt.
About CardSwap
Founded in 2009 and based out of Toronto, CardSwap is Canada's largest online gift-card marketplace. In partnership with selected registered Canadian charities, CardSwap has created a unique opportunity for Canadians to support their favourite causes by donating unused or partly used gift cards. The CardSwap service offering has received widespread acclaim in the media including coverage on CTV, Global, CBC, the Globe and Mail, National Post and even a recent feature on CBC's Dragon's Den.
For more information, please visit www.CardSwap.ca.
---
Create a memorial tribute for a loved one who has passed on through Beautiful Tribute and direct donations in their memory to the Rescue.

---