Fundraising
---
Clothing Store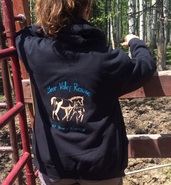 Beautiful embroidered hoodies!
Currently available in black, purple, green, pink, orange, and burgundy, depending on stock, the hoodies have a mare and foal embroidered on the back. This is a quality Gildan hoody with heavy duty metal zipper.
Sizes - small, medium, large, and extra large (not all sizes available in all colours, contact us for stock).
Price - $50 each. Shipping is extra.
Shipping costs are about $15 for one or two hoodies for most of Canada. For local orders we can try to arrange drop-off through our volunteer network. Email bearvalleyab@aol.com or phone 403-637-2708 to place your order.

---
---
Notecards
We have beautiful 3" x 5" (7.7 cm x 12.7 cm) notecards for sale! They come in sets of 5, with each set having 5 different photographs of Bear Valley horses on the front. They are blank inside and therefore suitable for any occasion! We have 3 different sets available. The fantastic photographs of the horses are courtesy of Sheena of
Blinking Cow Photography
.
ONLY A FEW SETS LEFT IN STOCK! - 3 of Set A ; 2 of Set B; 3 of Set C.
1 Set of 5 Notecards = $10 plus $1.50 postage
2 Set of 5 Notecards = $20 plus $1.50 postage
3 Set of 5 Notecards = $30 plus $1.50 postage
4 Set of 5 Notecards = $40 plus $3 postage
5 Set of 5 Notecards = $50 plus $3 postage

Cards can be ordered by mail (Box 19, Site 6, RR 2, Sundre, AB T0M 1X0) with payment by cheque made out to Bear Valley Rescue, or through PayPal. Be sure to include your mailing address and which set(s) of cards you would like.
Set A
Set B
Set C
---
Donations

Please consider making a one-time or monthly donation to help us look after the horses and other residents. Help spread the word and generate some much needed funds.

To make a donation that will go towards helping the horses at Bear Valley Rescue, download the form below. You can send post-dated cheques directly to the rescue, or set up a monthly donation through Canada Helps or PayPal (we ourselves are not set up to take payments by credit card, but you can use your credit card through Canada Helps or PayPal).

---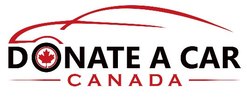 Donate A Car Canada accepts vehicle donations for Bear Valley Rescue.
To donate a car, truck, RV, boat, motorcycle or other vehicle to Bear Valley Rescue, go to
DonateACar
. We provide free towing in many areas across Canada, or you can drop off your vehicle to maximize your donation. When you donate your car at
DonateACar
, it will either be recycled or sold at auction depending on its condition, age and location. Donate A Car Canada will look after everything to make your donation easy for you to support Bear Valley Rescue. DONATE NOW at
DonateACar
and Bear Valley rescue will send you a tax receipt after your car donation is complete!
---

iGive.com - search engine and online shopping!
Established in 1997, iGive.com is an Internet company whose goal is to enable the economic power of individuals to benefit their chosen communities.
Sign up for iGive.com and list Bear Valley Rescue as a cause that you support.
Their online mall features over 800 of the web's best stores, including Amazon.com, Pottery Barn, Best Buy, Staples, eBay, PETCO, Expedia, and QVC. From gifts to groceries, special occasions to everyday necessities, every purchase can help our cause. Up to 26% of each and every purchase can benefits Bear Valley Rescue, and donation rates vary by store. Donation rates are clearly listed within the iGive Mall. When you shop, every penny of the advertised donation goes directly to Bear Valley Rescue. No administrative costs, fees, no mark-ups. You'll never pay more to shop through iGive.
In addition, raise a penny (or more!) for Bear Valley Rescue every time you search the web!
iGive.com
is the internet's first online search engine and shopping mall where a penny or more per search and a portion of each purchase is donated.
---

Smart Betty - online shopping!
We have partnered with Smart Betty, one of the fastest growing social shopping companies anywhere. For those of you who haven't heard of them, click
here
to find out who they are. Basically, each day you will be notified by email of different discounts from local merchants that you will be able to take advantage of - all you do is go online and purchase the voucher for the product or service and then redeem it at your convenience! The benefit to you is obvious - great deals on products and services that you already purchase! Another benefit is that Smart Betty understands the importance of charitable donations. So, for every dollar you spend purchasing Smart Betty vouchers, Smart Betty will give 10% of their earnings back to our charity. We are extremely excited about our partnership with Smart Betty, as this is something that we feel will benefit everyone! The more people see this, the better for our organization so please forward this info to friends, family and co-workers so that they can also enjoy the savings and help us in our fundraising efforts! We thank you for your efforts in helping us by spreading the word about us and about Smart Betty!
---

Bottle Drive!

We will help you get rid of your bottles! We would be more than happy to pick up your bottles in a mutually easy location and take them off your hands if they get in your way and you do not feel like taking them to the depot. Every little thing counts! Please let me know how you wish to help. I would be more than happy to give you more information, to pick up any type of donation, sell you tickets, pick up your bottles, etc. Thank you so much!

Mary Ellen 403-877-3510 (cell) maryellen.lickfold@yahoo.ca (email)
---