I started my previous blog on December 2nd and only got around to actually posting it today. Rather than add to it I figured I should start a new blog so here we are 2 weeks later. It's actually almost 3 in the morning. For some reason (perhaps because of all the work we do during the day?) the only time I seem to be able to work uninterrupted on the computer is when I can't sleep and am up in the middle of the night. Not that I am complaining in the least! After working in an office for almost 35 years, the freedom to be up in the middle of the night and not have to worry about having to get up in the morning and drive to work and then spend the whole day at the office in priceless.

I had mentioned in the previous blog that we had the Red Deer College Theatre Production Program out for a volunteer day to work on the seniors' shelter. Thank you to our volunteers Kim and Mette for arranging it (as they are in that class), and thanks to their scenic carpentry instructor Ian, shop supervisor Rick, and students Aaric, Trevor, John and Nevin (and Kim and Mette). The senior's shelter was completed, save for 2 gates that Mike installed the next day. Thank you also to Mike's brother Brian who was out helping that day as well. The horses love their new shelter!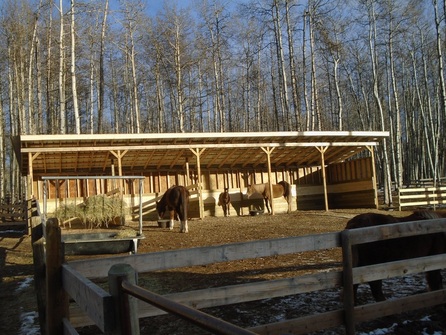 We received two nice donations through employee matching programs, namely Cenovus Employee Foundation and Encana Cares. Thank you!

We received several 'donations in memory' over the last couple of months. Thank you to those who chose to memorialize their loved ones in this way.

Thank you to our local feed store located in Sundre, Dougan's Farm and Feed Supply, for donating about 40 bags of Nutrena Vitality horse feed!

Michelle Neaves won a draw through Red Deer Mitsubishi, where the winner gets to select a charity of their choice to receive half the prize money. Thank you Michelle for selecting Bear Valley Rescue as your charity of choice!

In the last 2 weeks we've had several intakes, including the ponies mentioned in the previous blog, save that we ended up with 3 mares and 3 foals, not 4 mares and 2 foals as originally anticipated. Our sincerely appreciation to Four Feet Companion Foundation for their generous grant to assist us in taking in these cute ponies!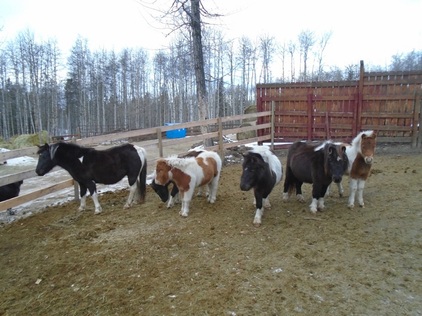 This past weekend, some wonderful friends volunteered to make an all day drive south to pick up an old gelding from an impound lot. Thank you RJ for contacting us about the horse, Clifton for contacting RJ in the first place, and Stephanie, Laura and Bob (and Stephanie's friend) for making the drive. Meet 'Thirty'!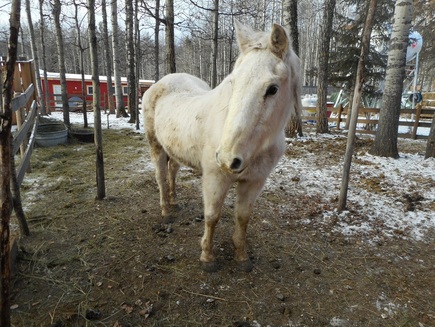 Also coming to us this past weekend from a feedlot were 2 thoroughbreds and a filly. A huge thanks to Alyssa and Emily for hauling them down to us from Lloydminster, another all-day trip, also involving an emergency stop at a vet clinic in Edmonton when the filly went down in the trailer! Thankfully she was okayed for the remainder of the trip and is recovering nicely in the barn. We've named the filly 'Flower', and the 2 thoroughbreds are Sir Charles B, 22 years old (the black), and Into the Fire, 18 years old (the bay). They are all lovely horses, very well mannered, though sadly in poor shape. We'd also like to thank the ladies of the 'Westlock and Beaverlodge Auction' facebook page, for their efforts to save horses destined for slaughter. It was through them that we got these 3 horses and their fundraising efforts helped reduce the purchase prices and hauling costs to get these horses safe.

Our Christmas fundraiser is well under way! Thank you to everyone who has contributed, donating during the month of December or specifically buying a present for their favourite to put under the tree, or as will now be the case, into the sleigh!

I'd like to thank once again Pets for Life Society Alberta for their very generous support in paying our vet bills for October and November.