We've had lots of things going on with the nice spring and summer weather. We just finished several days of farriering and we were able to do over 80 horses. I was pretty impressed that in the one herd of 22 horses which includes most of the youngsters, 21 of them are able to have their hooves done. Further to that, thank you Denis Gobet and Ted for coming down and trimming 36 horses and 3 cows with your tipping table in June! Mike and his brother Brian built a really nice chute system for Denis and it went like clockwork. We were able to trim many of the horses that are not footbroke. It's so nice to see them all with nicely trimmed hooves!
Unfortunately we had to cancel the dinner and dance we had planned for July 4th due to lack of interest. Thank you Stephanie and Laura for all your work in trying to get it off the ground.
We moved most of the horses out to pasture and it seems like we are still moving horses around. We are fortunate to have lots of pastures available this year though they are scattered around the countryside. Right now, not including regular foster homes, we have horses at 10 or 11 different pastures. Fingers crossed that our regular hay suppliers are able to meet our needs this year as everyone has been worried about the hay crop due to lack of moisture in some areas, which is driving the price up as well. Any donations of cash toward our hay purchase would be greatly appreciated or if you are able to donate hay please let us know.
We are fundraising for a new truck! The timing isn't best as we normally are working hard (and still are!) at this time of year to get enough funds together to purchase the coming winter's hay, but our old truck is nearing the end of its life and we can't afford to have it break down, that's for sure. A big shout-out to Mountain View Dodge in Olds, AB. Thanks to a nice lady who follows our facebook page who works at the dealership we were able to connect with them and they are helping immensely to get us into a new truck, contributing almost $30,000 so far! If you are looking at buying a new vehicle please consider shopping at
Mountain View Dodge
as they are also donating an amount (I think it is $250) towards the new truck for each vehicle sold in the months of July and August. This is the truck they have in their showroom for our fundraiser - pretty nice!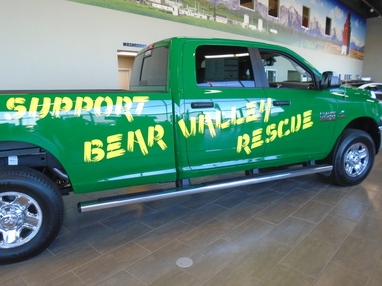 We have a new memorial fund set up by the Isiah family to memorialize their horse, Mingo. It is located under the "What Can I Do" tab as "
Mingo's Memorial Fund
".
Special thanks:
Spruce Meadows, first for the 700 pounds of carrots (!) and then for the truckload of feed
Coleen Gittins - St.Francis Stables and Haunted Lakes Pony Club Society
Kittyhawk Animal Foundation
Four Feet Companion Foundation towards Atticus' crypt surgery
Grace and Brooke Robson birthday donation
Raiya Ellis birthday donation to sponsor Gemma

In memory of Sidney Castle – from Lynn, Lee, Martha & Tim Lickfold
In memory of Elizabeth Bakuska - from Candace & Brad Charlton and Sheldon Bakuska toward Ghost's
foal, also named in her memory as Spirit of Erzsebet, or Spirit for short
Laura Metrow - bottle drive donation
Laura and Stephanie Schmidt - chocolate sales donation

MVP Promotions
In memory of Whitney Laine Mah and Snow Angel (Snowy)
The winners of The Mane Event raffle – Silvia Thacker - goodie bucket, Sara Munro - hoody & cap, Terry Rogers - Timberline trail ride
We've had a number of horses come in to the Rescue over the last few months - Buzz, Reba#2 (from the Alberta SPCA), Rosie, Atticus #2, Tri & Juanita , orphan foal Filly, Tulsa, Rene, Ravii, 3 standardbred mares (Refiners Gold, Bingo Fever, and Idle Promises), Bella#2, Tuffy, and Pokey. Two foals were born this spring, including Ghost's foal Spirit and Rosey's foal Matilde. We also took in 1 Lady Amherst/Golden cross pheasant from the Calgary Humane Society, which we subsequently found a home for. A number of Bear Valley adoptees came back including Yuma, Confetti, Panda, Smudge, Abilene, Rigby, Mosaic, and Preston.
Augin and Django went out for training but will be coming back shortly due to shortage of pasture at their foster home. Tulsa has gone out for training while Sebastian, who was out for training, was adopted. Yuma, Maggie#2 and Smudge have gone to new foster homes and Hershey came back from his foster home.
Others that have been adopted are Mesa#2 (who has had his hernia surgery, sponsored by his adoptive family!), Reba#2, Kokanee, Ranger, Buzz, Confetti, Abilene, Sebastian, Snickers, Bibi, Fresno, Riley, Tivio, Karma, Tri, Atticus#2, and Zora. Saffron, Lilly, and Red have been fostered, not sure yet if it will be permanent or just for the summer. Twobits, Kahlua and Macie have gone out for summer foster.
Highway has had a lump on his leg that we had xrayed. It is not on the bone, is just a soft tissue thing and doesn't bother him. Snips had a puncture to his shoulder that required a drain be put in. He's healed up nicely though he really didn't like the whole procedure. Reba got some cuts to her chest from barbed wire and they've healed up well. We heard that Snuffy, who was adopted out last year, developed a lump on his knee which was cancerous. They had it removed and we hope that he is going to be okay now, he was always one of my favourites.
You can now support Bear Valley through Change It!
ChangeIt® lets you automatically round up your debit, credit, or mobile wallet purchases and donate the difference to causes you care about. It's the easiest way to give and getting started is simple. Click on the below link for more info. You can also donate Air Miles cash rewards to the Rescue!