Once again I'd like to plug the event we have coming up July 4th at Horse in Hand Ranch in Blackfalds -
http://bearvalleyevents.wix.com/bear-valley-events#!events/c1h6a
- please check it out and share with your friends and family! We are looking for sponsors for the event along with vendors for a country market we will be running in conjunction with the dinner, dance and silent auction. It will be a great way to support the Rescue and have a fun evening out at the same time! We have had a lot of interest and have some great things lined up for the silent auction already along with quite a few vendors for the market.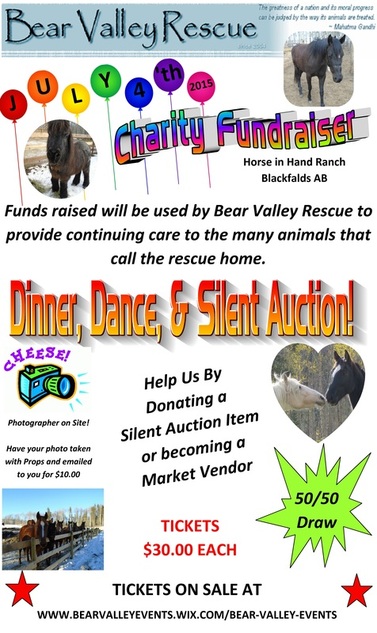 April has been a much better month than March in just about every way. The weather has been unusually mild. Of course everyone is starting to complain about how dry it is. We haven't had much moisture, snow OR rain, this month, but May and June are usually the wettest so there's lots of time for rain yet (and hopefully not snow!). We had some wonderful adoptions this month, including Estelle (who went to the same family who adopted Mac the appy a couple of years ago), Plume (who went to the same fellow who has Renegade who was born here a number of years ago), Quentin (who will be joining Rasta) and Smudge and Voodoo, who were adopted together. Karma went to a new foster home, thank you Heather. Trixie has also been adopted and will be going to her new home shortly. A big thank you to Marcie and Christian for fostering Trixie and working with her, and to Peggie and Stephanie for sponsoring Trixie while she was there.

We had 3 horses return to us this month. Ranger, now 5 years old, was adopted as a weanling. He came back to us because he injured his shoulder a while ago and didn't come completely sound again but he is broke to ride and would be suitable for light riding. Yuma was adopted out last year but has soundness issues (he's coming back tomorrow and we'll have our vet look at him). Tacoma, an older palomino gelding we bought at auction a couple of years ago, was returned due to serious illness on the part of his owner. He is not in great shape (was boarded somewhere that didn't provide good care) but he's doing much better already on mash and good hay. We also took in an older Arab/standardbred mare. She's a strong mare and well broke but not for a beginner. I will get these horses posted on the website shortly.
Abby has a sponsor, thank you Francesca! Francesca has been sponsoring horses for a number of years but they keep getting adopted (most recently, Voodoo), so this time she picked one that is a permanent resident!

| | |
| --- | --- |
| | Thanks Tracey for the cool 'Buy a Bale' board that you made up for The Mane Event, and thank everyone who contributed. We are at The Cochrane Trade Show next weekend and we'll have the board there as well. I think everyone had fun at The Mane Event, thanks volunteers, and it is always nice to have previous adopters stop by and give us updates on how the horses are doing. We made a couple of good contacts regarding feed and other supplies and were able to get the word out about the upcoming Blackfalds fundraiser as well. We held a raffle and the names drawn were - Sara Munro for the hoody and cap; Silvia Thacke for the bucket of horsey stuff; and Terry Rogers for the Timberline Tours certificate. I haven't called them yet to let them know so this might be a spoiler. |
Bear Valley Rescue is hoping to be verified by
Global Federation of Animal Sanctuaries
and to that end we had a visit from 2 lovely ladies from International Federation of Animal Welfare a week ago to do an on-site audit for GFAS. Thank you to all the volunteers who worked so hard over the last couple of weeks getting everything ship-shape after winter. Fingers crossed we get our verification status!
We had a nice visit from Sheila Isiah, whose horse passed away recently. Sheila would like to set up a memorial fund in honor of
her horse, Mingo. There was a very generous donation in the mail today to put toward care of the seniors, thank you Leah. The Rescue received a $1,000 cheque from Kelly Kay and HorsePlay Family Fun Day that was held a few weeks ago - thank you Kelly! I finally got the year end done and once again our wonderful accountant, Jim Muma, did the year end statement and tax return for us free of charge. Thank you to Doug Bennett (Prince's owner for 30 years) for the generous donation in memory of Prince who we lost last month.
Calgary Gymnastics Centre is fundraising for the Rescue

Rosey had her foal on April 19th, a lovely little filly.

The filly already likes bum scratches - click here to see a video of her at 1 day old.


Sadly Tinsel lost her foal, a colt, when he was born a few days later.


We were involved in the rescue of about 250 battery hens in early April. Thank you to the Fuerstenburg family for driving to pick up all the birds and for helping to care for them. We've found homes for most of them, at this writing I still have about 20 here that can go to new homes.