Our Christmas 'decorate the tree' fundraiser is off to a great start - $5425 raised so far - a huge thanks to everyone who has donated! Wouldn't it be nice if we get the whole tree filled so we can start piling presents underneath it too. Donating is so easy - you can donate online through the website (Canada Helps, ATB Cares, Paypal), through the mail by cheque, or on your cell phone through Mobile Giving (by texting HORSE to 20222).

Thank you to: Cassandra, Colette, Linda-Lou, and Kim, who have donated feed so far through Mountain View Feed Company's 'Fill the Feedroom' event; Catalyst Changers for the $1,000 donation on behalf of their employees, customers and suppliers; Kristyn for the donation through Encana Cares; and to Four Feet Companion Foundation for the unexpected but very much appreciated $1,000 donation for the animals.


We would like to thank
HorseJournals.com
for their continued support, providing free advertising space for Bear Valley Rescue in their print and online publications.
Stiles left for his new home last weekend and he's fitting in wonderfully.
Beth got up by herself on December 2nd! She lay down in the yard in the sunshine and an hour later she was back up. I'm disappointed I didn't see her get up as I'd like to have seen how she managed, but still, it's good news.

Tyler, the older Thoroughbred gelding who came in a couple of months ago, started having some issues. I wasn't sure if he had a choke or cold or what, just had a bit of a cough and odd head tilt. Our vet came out and was unable to tube him, there seemed to be some blockage up by his larynx. Tyler is on antibiotics and bute for the time being to see if that helps. If it doesn't help we'll have to take him in to the clinic to be scoped in order to see what is going on in his throat.

Little Marvin, the pony, seriously injured his eye yesterday. It was all pus-y and closed up. Our vet came out (she seems to be here a lot!) to look at it. He has a puncture above his eye and a laceration to the lower back part of his eyeball. Hopefully it will heal up okay but he will have to be on meds for a while. We'll see how long he's amenable to having cream put in his eye. Good thing he's little!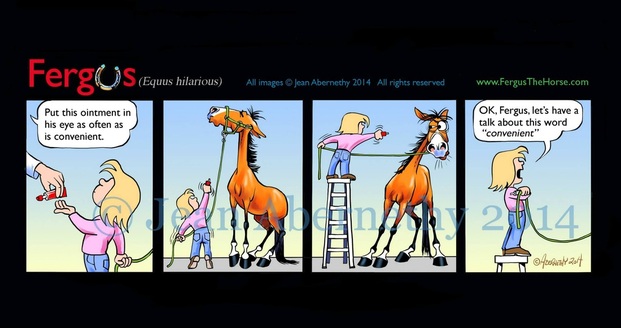 And in spite of being little, Marvin can jump! He just jumped out of his paddock and took off back down to the main herd. I think it was all Beth's fault, she was galloping (!) up and down the alleyway, and she bit him too. Colleen, one of our volunteers, and I cornered Marvin in the bale yard and I led him back up to the house. Now he's in the round pen, I'm pretty sure he can't jump THAT high.