Our Christmas fundraiser, decorating the tree for the animals, was a great success! Thank you to everyone who contributed, shared, cared. We even added a bunch of presents at the end. Next year we might start out that way right off the bat, having people be able to add decorations or presents for individual animals. It was a lot of fun decorating the tree. Perhaps we'll do a valentine fundraiser, buy a heart for a horse!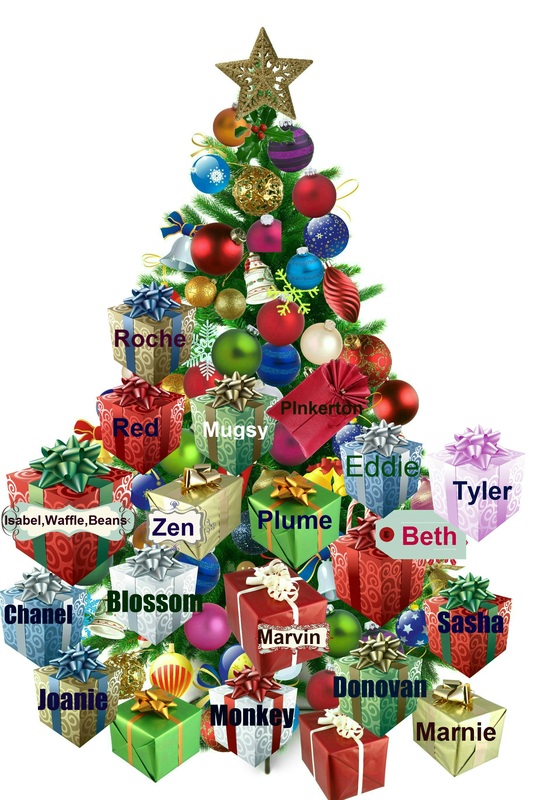 Had a bit of a fiasco the other night. I was up at 3 a.m. to get Beth up and let her out of the barn. Couldn't get back to sleep so got up again at about 3:30 and heard some banging outside. Went out to check and found Tyler had somehow fallen into the round bale feeder! So we're out there trying to get him out, I'm in my housecoat, and it's -30C. Mike had to get the skidsteer out to lift the bale feeder up so Tyler could get up. Poor guy is a little banged up. He's not happy about it but I've put him in the barn in case he goes a bit shocky from the stress. And of course while we're trying to get Tyler up, Tucker decides to leave the paddock (I forgot to close the gate in my panic to help Tyler) so once I've got Tyler in the barn I'm running around trying to find Tucker. He was outside the gate but fortunately I got in front of him and turned him back and got him caught and put away too. Yikes, never a dull moment! So thankful though that I was awake and heard the banging.

Yesterday we were putting out hay for the herds and I noticed Simba is slightly off on his left hind. Then I saw Mac was completely lame on his right hind. Seems there is always something going on with someone. I separated Mac, put him in the smaller paddock with Cola, Torque and Missy, hopefully they are nice to him and he won't have to move around too much until we figure out what's up with him. Marvin's eye is healing nicely, he'll have a scar but it's at the back lower part of his eyeball so shouldn't interfere too much, if at all, with his vision. He's learning now to stand reasonably quiet while I put the cream in, or at least get it smeared on his eyelashes or in the vicinity of his eye. Marvin jumped the fence again, this time the 4 foot round pen panel! Mr. Goat the woolly mammoth mini is back and I thought I'd put him in with Marvin to keep him company. As soon as Marvin saw him coming he panicked and jumped right over the fence. Marvin is only 11 hands high, if that, so it was quite a feat for him to jump that fence, though he certainly didn't seem to give it a second thought. Mr. Goat is now next to the seniors pen instead. Mr. Goat does have a possible foster home lined up for January as a companion to a mini-donkey, they'll make a cute pair for sure.

We were contacted the other day by someone who saw a horse listed for sale on a facebook page and recognized her as one of our previous rescues, Ghost. In checking it out, it seems that the mare, Ghost, had changed hands a number of times and in the end was being used as a broodmare! It was so disappointing to find this out. So much for having conditions of adoption. We realize that the adoption contract is not worth paper it's written on if people don't abide by it and don't care enough to pass them on to future owners but one would hope that people have integrity. I think this illustrates a lot of what is wrong with horse owners and people in general, why you find 20 or 30 year old horses at auction that don't even have a name, why there ARE so many horses being bought and sold everywhere you look. As Michele, our neighbour said yesterday, so many people view their horses as just another piece of equipment in their yard. You'd be hard pressed to find a dog even, for example, that has had seven owners in 14 years yet that is what has happened to Ghost. She had at least that many, as there had to have been 1) the original breeder, 2) the horse dealer we bought her from at 4 years of age, 3) the Rescue, 4) the person we adopted her out to, 5) the person the adopter sold her to, 6) the person who listed her for sale on facebook, 7) the future buyer of her. There most likely were other owners too, as it's very probable that someone else owned her between her being born and ending up at the horse dealer; also the person currently listing her for sale by my understanding bought Ghost at auction, another no-no from the adoption contract (she said something about saving her from a meat buyer). I am so thankful that the lady who saw the ad went and bought Ghost, so she's safe again. The other disturbing aspect of this whole thing is that I found out afterward that the husband of the seller said he wouldn't ever sell the horse back to us, Bear Valley Rescue, because of some perceived slight or issue from years ago to do with him losing some bid on some wildies, or something? I don't know what the heck the guy could have his nose out of joint about, but it is disconcerting to feel that someone thinks ill of the us.
Well, as it's been said, you can't please everyone. I'm just glad the Ghost is safe again, she has always been one of my favourite horses that has been through the Rescue.