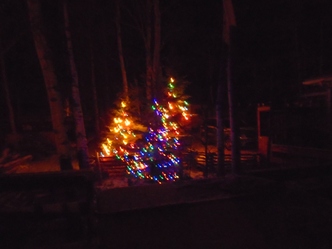 Happy Birthday Mike!

Hope everyone had a happy and safe Christmas. We've been dining on chocolate and leftovers the last couple of days. Takes care of the 'what to cook' dilemma that's for sure.

My horse Bandit got an abscess on the side of his cheek and he's up here at the house so I can hot-compress it until it bursts. All the horses are doing well. With the milder weather we've had they've slowed down a bit in the amount of hay they have been going through. The weather is supposed to get colder over the next couple of days though so we'll be blanketing some of the seniors today. Still have to finish up deworming as well - we did a lot of them when we did feet last time but there are still lots more to do. I have a couple of the horses here at the house that I'm not happy with their weight. They will have their teeth done soon but in the meantime I'm going to deworm them with safe-guard and then eqvalan gold, make sure parasites aren't the problem.

I did some work on the website, moving a lot of the older and long-time resident mares from the adoption page to the foster or permanent resident pages. Some of them have been here upwards of 8 or 10 years and are no longer good candidates for rehoming, either due to their age or lack of handling, or simply because it would be too stressful to uproot them at this point in their lives. It would be so wonderful if we had unlimited funds and space to keep all the horses that come to us here permanently. Unfortunately that's not the case so we do have to rehome when we can in order to make room for more animals needing help.