Thank you to everyone who has contributed so far towards decorating the tree for the animals! We are at $9,135, almost to our goal of $10,000!
Thank you to Karen Graybern and Karen Middleton for your donations through United Way of Calgary and Area, and to
Maria Dodsley, Kathy Estey, Cathryn Gough, Bonnie Edmunds, Michelle Forrieter, and Nishi Thusoo for your donations through the Cenovus Employee Foundation.
There was a little article on Bear Valley
Rescue in this month's Equine Wellness Magazine -
http://www.equinewellnessmagazine.com/articles/bear-valley-rescue/
We had the vet out for Beth this past week. She'd been out of sorts and she'd gone off her feed a bit. It turns out that, because she'd had a halter left on her that grew into her face, it affected the alignment of her jaws and teeth as she was growing. She had a lot of really sharp points and needed her teeth floated badly - not what one would expect with a two-year-old horse but she's been through a lot in her short life. She also has ulcers in both cheeks because of the sharp points. The vet gave her a manual float and she'll have a proper power float in a couple of weeks once the ulcers have healed. Beth is feeling so much better now!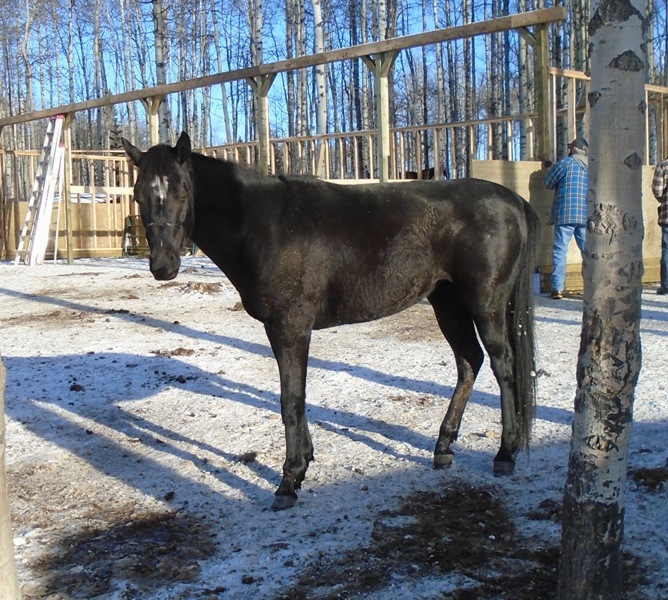 Marvin's eye is improving, and of course it's not getting any easier to put the cream in his eye! We are working on it though as it's going to take a while before his eye is completely healed. Tyler also seems to be doing well, he hasn't had any more issues with his throat.


Thank you to Kendra for the donation of firewood - we filled up our 16' stock trailer and there's still more to pick up. We heat all the buildings, including the feedroom, coop and barn, with wood. Thank you to Terri Bodell for the donation of square bales, we picked up over 100 bales today. Tomorrow we have the tree guy coming to take down a lot of poplar that are dead or dying in and around the paddocks. We had a tree come down in a wind storm a month ago and it landed on one of our vehicles! A couple of trees also came down on one of the fences, so we've decided we have to bite the bullet and pay to have some of the trees cut out that are most likely to cause damage if they come down, in addition to making it safer for the horses. On the plus side, we'll have lots more firewood.