Wow, over 2 months since the last update! I hope I don't forget to mention anyone or anything.

I usually start with adoptions, so here goes..

We've had quite a few adoptions recently, which is always great news - Thor, Count Decost, Ginny, Vita, Catch, Nemo, Ferrero, Zip, Oats, Spitfire, Yuma, Gabby, Valour, Clancy, Gizmo, Elvis and Bhodi. Both Count Decost and Oats went straight to a new homes as soon as they came in. Zip was a return and also went straight to a new home. Other intakes we've had are: Mesa, a wildie colt with a huge umbilical hernia; Kokanee, a standardbred gelding; and Heathcote, an unsound 2 yr old Akhal Teke gelding (there's a breed I never thought we'd see here!).

I'm really happy to say Rain has a new home, with Ginny! She's been here a long time, so it's especially nice that she has her own person now. Macie and Kahlua are back from summer foster, thank you Carol for hauling them back home for us. Two other long-term fosters came back - Cash#2 the saddlebred gelding and Mugsy the old pony mare. Cash seems to have possibly a stifle injury and his weight is not good. Our vet will be checking him out next week. Mugsy came back looking great, thank you Stella for looking after her so well. Mugsy was companion for the last couple of years to Stella's own old pony mare until she was put down this fall. Colton was returned after being adopted for only a short time and Elmo, a wildie who was adopted out back in 2009, came back as well, though unfortunately it would seem he's had little handling in the last 5 years. Though Vita was adopted that fell through rather quickly so she's once again up for adoption. Chanel has come back (her previous sponsor Kerry is very happy about that!) because she is not sound and a lot older than we'd originally thought. She has joined Sasha, Munsie, Joanie and Monkey at Janine's (Larosa Home of Rest for Horses). We took in a beautiful bronze turkey hen, thank you Sasha Ladawn and her husband for outbidding everyone else in a raffle to win her and save her life as she was supposed to be someone's turkey dinner!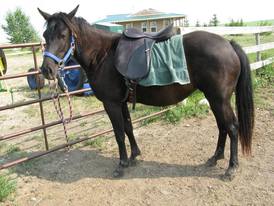 Lucky#1, Sebastian, Marta and Voodoo were out for a short period of time for training but didn't have much done with them before they came back a few weeks later due to personal circumstances. Thank you Shelly for the time you did spend with them. The six youngsters who were out for summer school, Rasta, Gizmo, Quentin, Morgan, Zora and Marnie, have come back now, with lots of experience under their belts (or cinches!), with Gizmo already adopted out. Quentin needs more work on his hind feet as he is quite kicky, but with time we should be able to get him past that. They've all done haltering, leading, tying, had stuff on their back and under their feet, etc. We took Roche, Twix and Snickers to fall school now for the same sort of handling, thank you to everyone who contributing to their schooling. They'll be a bit more work though as they are new to the Rescue and pretty well unhandled, save for Twix who had a bit of work done with her by our volunteers. Thank you Susanne for the work you are doing with these youngsters! Hershey as well has gone out on foster for handling (he went with Clancy's adopters). It looks like Trixie, Kirby and Felicity may stay at Marcie and Christian's for the winter to continue their training if we can get sponsors for them. Thank you to the ladies who have already sponsored Trixie's stay. There is a possible adoption in the works for Felicity, so if that goes through only Kirby is still looking for sponsors. If anyone would like to sponsor Kirby at $100/month (or any portion thereof) please indicate that on your donation when you send it in. Estelle, Tivio, Boston, Powder and Salsa are staying on at Trendsetting Stables in Androssan to continue their training. Spitfire was adopted from that group last month.
We were saddened to learn of the passing of Sharon Neary. Sharon was prior owner of Wolf, one of our adoptees, and Old Red, who was one of our senior residents until his passing last year. Thank you for the bequests in her memory.
We also received a donation in memory of Teresa Henry, and in memory of Nomad and Ramilika. We had 3 different birthday donations, thank you Scott Bell, Cole Mclean, and Jacob Chisholm! It's usually the girls who are horse crazy, so it's really nice to see this thoughtfulness from young men as well!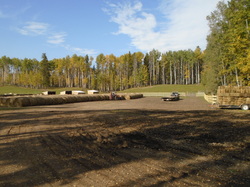 We were very busy in September fencing the new bale yard. With over 800 round bales coming in for the winter we needed a better place to store the hay. There's been a nice influx of new volunteers so we've been able to get lots done around the Rescue in the maintenance and clean-up departments. The day to day care of the animals takes up so much time that things that need to be done outside those vital chores tend to get put aside and before long become an overwhelming list. Also with all the rain we had over the spring and summer, some things like paddock clean-up couldn't be done until things dried up, which they are FINALLY starting to do (in time for winter!). Now we are starting to bring home the horses from the various summer pastures. It is nice to have them back home and in one place, but the down side is that it also means we have to start feeding hay.
Lots of people to thank and I'm sure I'm going to miss someone important -
Cheryl Emblau for the senior feed
Horse n' Around in Red Deer for the nice halters and leads
Terri Bodell for the hay
The Tack Collector in Calgary for the great on-going support and the donations through your patrons
Merlin Integrated Solutions
Allardyce
Bower Consulting
Gordon R. McLeod Fund at The Calgary Foundation
Christine from The Horse Store in Calgary
Jose Fornelli for the small blanket
Karen McLaren for the vet wrap
Sylvia, Amanda, Brad, Arlene
and others for the sidewalk sale held in Sundre that raised over $800!
Equine Wellness Magazine - we were rescue of the month for September!
SOAAR - Supporters of Alberta Animal Rescues - for the donation towards our vet bill
Karen Allen for the special blankets for Beth
Spruce Meadows Masters for the feed - special thanks to John Garner, Lisa Murphy, and Laura Day

Photographer Debra Garside (http://www.sableislandhorses.ca/) has a beautiful 2015 calendar for sale of Sable Island and Alberta Wild Horses. She has very graciously chosen Bear Valley Rescue to donate a portion of the sales proceeds to. If you would like to order one of these calendars you can order them through the Rescue - email us at bearvalleyab@aol.com. They are $26.50 each plus postage.

I was interviewed by Vets to Go Radio (http://vetstogoradio.com/) on Sept 7th, 2014, episode 48 (my interview starts at 22:00 minutes) about Bear Valley Rescue and our origins. You can listen to the interview on their website, just scroll down the page to that episode. Their show airs every Sunday between 11 am and noon on Calgary AM770 Radio.

Mike and I, along with a number of our volunteers, were able to take a day and go up to Lake Louise to Timberline Tours for a 2 hour trial ride. Paul and Sue Peyto from Timberline are great supporters of the Rescue and wonderful horse people. They have adopted a number of our horses and we got to ride some of them! It was a beautiful day, the scenery was breathtaking and we really enjoyed ourselves.

There has been a rash of foot abscesses affecting the horses, probably again due to all the moisture we had this year. Penelope, Toby, Munsie and several others have had them. Several of the younger pigs had a serious bout of some sort of respiratory illness, with Penny being the sickest. Thankfully we caught it in time and after a few injections of antibiotics (now that was quite the experience, trying to give them shots!) they all recovered within a few days. Our guinea hen decided to go hide in the forest and hatch some eggs and she came home with 16 keats (baby guineas) in tow! Wilbur the cow had an eye infection and had to go into the vet, thanks Krystle for watching over him. Joanie's leg has continued to fester so we had it debrided. Unfortunately we don't know that we're any further ahead with in now either. Thank you Janine for continuing to deal with it and with Monkey's leg as well (and Munsie's abscesses).

The vet is coming out next week, we have Pinkerton and Mesa to geld and several teeth floatings to do. Mike is still working on hauling home the round bales, he's almost half way done, then we have some square bales we have to pick up and also we have to finish moving the rest of the horses home before the snow flies.

We are in the running for a CREB (Calgary Real Estate Board) grant of $10,000. Members of CREB can vote daily for a charity and the top 5 in each of 3 categories get a grant. If you are, or know of any, realtor members of CREB please have them vote for Bear Valley! Here's the link to the contest - http://www.calgaryrealtorscare.org/investinginhope/Nominees/Vulnerable_Populations/Bear_Valley/

WHOAS (Wild Horses of Alberta Society) will have their 2015 calendar on sale soon, available through their website or locally at the following locations:

Olds UFA
General Store, Water Valley
Sundre Museum
Millarville Christmas Market (Nov 6, 7 and 8)
Cremona Winterfest (Dec 6)
Olds Fashioned Christmas
There will be additional locations where the calendars will be available
, posted on their facebook page.

We were heartbroken to learn of the passing on Fonda (Gracie), the draft filly, due to colic. Our condolences to Rachel and family. Also Maydie, a filly with a crooked foot who came to the Rescue in 2012 as a weanling, was euthanized at her foster home late this summer. Thank you Jen for fostering her.