I've posted a newsletter for the first half of 2014. I missed a few things so I've updated it.

We had been contacted late last year about a situation involving a small herd of Morgan horses that were (was?) going to need to be rehomed by spring. The owner had returned to the States due to ill health and was not going to be coming back to Canada. Fortunately he had arranged for a caretaker to look after the horses over the winter, but when it was determined that he would not be coming back, come spring, when the hay ran out and the property was repossessed or the power cut off, the horses would have nowhere to go. After a bit of finagling we were able to obtain legal permission to take in the horses. Mid June, with two trucks and trailers we drove all the way to the Saskatchewan/Alberta border to pick up the twelve Morgans. Of course there's always a 'but', and in this case it was that two of the twelve were stallions. No matter, we got them all home, the stallions have already been gelded and 2 of the Morgans have already been adopted. At least in this case all twelve horses are halterbroke. That's a big plus when we're used to dealing with horses with no history and often little or no handling! Thank you Mary Ellen for hauling one of the trailers, and thank you once again to our vet, Dr. Erickson, for meeting us that evening when we got home, to stitch up the one horse that got a serious cut over his eye in the trailer.

The Morgans are all posted on the website now, plus I updated the Hungry Herd horses' pics, and some of the youngsters'.

We took three of the Morgans to Colette's for summer foster but Silhouette went through a fence less than an hour after we dropped them off, so back we went to pick them up and bring them home. I guess they're just a 'little' herd-bound. Not surprising, considering they've lived together for years and most of them are related to each other.

We delivered Flora and Marshall to their new home. Mercy was fostered but has come back as she jumped the fence again.

Quill has been adopted by her foster home, along with her foal that was born there.

Adopted are Burlesque, Cash #3 (two of the Morgans), Zane, Peso, Isobel Too, Tacoma, and possibly Snow White. Foxy #2 is relisted, we decided she wasn't going to be a good fit at her adoption. Dixie was picked up by her new owners, along with her mom Thelma who they are also fostering.

We delivered Macie and Kahlua to their summer foster. Just as we left, Mike spotted a baby moose tangled in a barb wire fence. We were able to untangle it but it was pretty seriously injured. Thank you Charlene for watching over the little moose during the day. It went to Alberta Institute for Wildlife Conservation, but sadly it did not make it due to shock and stress.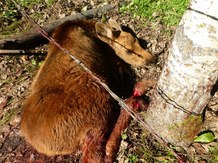 The llamas were sheared, finally. Then two of them decided to jump the fence (not on the same day), we believe they were spooked by a bear. We went walking through the neighbouring quarter section looking for them. We didn't find the llamas that day, but we did find the bear!

Thank you Christian and Marcie for taking on Felicity, Kirby, and Trixie for the summer, to work with them.
We have some other youngsters we would like to send out for some work to someone else as well, but we will have to pay $100/month board for them, so we are fundraising for that. If you'd like to sponsor a youngster to go to summer school, please indicate that on your donation. We are hoping to send at least Marnie, Morgan, Quentin, Gizmo, Rasta and Zora, and more if we raise enough funds.

Thank you Linda & Ken McEwan for the donation of really nice electric clippers, and also the fence posts and other misc. stuff.

Thanks also to Terri Bodell for donating more hay, Ginia for donating feed, Linda Paget for donating hay, Four Feet Companions Foundation for donating feed, and Linda Somers for donating to cover the cost of gelding one of the stallions. We are also fundraising for that, as we have 5 stallions to geld. It is at least $350 to geld one mature stallion, including the gelding and aftercare.